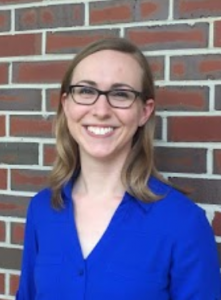 FLUTE
Catherine Moree
Email: catherine.h.moree@gmail.com
Phone: (970) 691-7449
Catherine Moree is a San Antonio based flutist and educator. Currently she teaches private lessons and master classes, plays with Fiesta Flutes and the San Antonio Wind Symphony, repairs flutes, and enjoys playing chamber music regularly with colleagues and friends. As an educator Ms. Moree has taught students ranging from kindergarten to college undergraduates. Ms. Moree loves teaching about the flute in any setting, however, she particularly enjoys being able to watch students make rapid progress when they take private lessons.
Ms. Moree graduated from Florida State University in 2017 with a Masters of Music in flute performance. Prior to that she graduated summa cum laude from the University of Northern Colorado with Bachelors degrees in music education and flute performance. Her primary teachers include Eva Amsler and Dr. James Hall.
---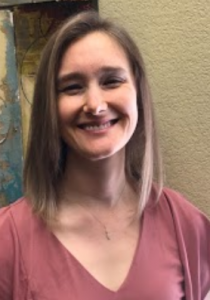 CLARINET
Sara Braisted
Phone: (512) 773-8180
Email: sarabraisted@gmail.com
Sara Braisted has been teaching master classes and private lessons on all forms of clarinet in San Antonio since 2009, as well as lessons on piano, sax, and flute. Miss Braisted began her musical vocation playing piano at the age of seven before adding the clarinet in 5th grade. During her time at The Woodlands High School, Miss Braisted expanded her clarinet knowledge with the inclusion of the Eb clarinet, an instrument she would continue playing while at the University of Texas at Austin (UT). Miss Braisted received her Bachelor of Music with honors in Music Studies -Instrumental (Emphasis: Clarinet), and acquired an all-level teaching certificate for music education. In addition to the program's requisite studies, Miss Braisted sought out supplementary coursework in conducting and all woodwind instruments, becoming a woodwind specialist. This background has enabled her to expand her teaching capabilities. While at UT, she played in numerous ensembles, including the Longhorn Band. Since graduation, Miss Braisted continues to be active in the music community. Her performance list includes the San Antonio Symphony, numerous private events as both a soloist and part of an ensemble, and as a proud member of the Longhorn Alumni Band. She has been a judge for various musical competitions and assists at local instrument drives. Her students regularly make region band and beyond. Miss Braisted hosts recitals twice a year for her students. She is a member of the Texas Music Educators Association, attending their convention annually so she can implement the latest advancements and innovations in the music education field. Sara Braisted is passionate about music and improving the lives of her students.
---
SAXOPHONE / FLUTE / CLARINET
Maleah Martin
Phone: 818-292-7807
Email: martinmusicnotes@gmail.com
Maleah Martin attended California State University, Northridge where she earned her Bachelor of Music in Clarinet Performance and Music Education under the instruction of Dr. Julia Heinen. During her time in college, Maleah earned the principal clarinet position with both the Wind Symphony and the Wind Ensemble. She also coached chamber music and helped teach undergraduate lessons. At the 2011 ClarinetFest, hosted by California State University, Northridge, she was named concertmaster for the Wind Ensemble's prestigious concert series where she performed alongside Alexander Fiterstein, Bob Spring, Hakan Rosengren, Julian Bliss and the Vendome Quartet. Maleah has over 15 years of experience and currently teaches clarinet, bass clarinet, saxophone, flute, and piano. Most recently, she has been instructing students from beginner to high school levels in San Antonio Texas, and performing regularly with the Prickly Pear Clarinet Ensemble and the Heart of Texas Concert Band. Maleah performed with the Prickly Pear Clarinet Ensemble at ClarinetFest in Orlando in 2017 and Knoxville in 2019. Her private studio has produced several state musicians and future music majors.
---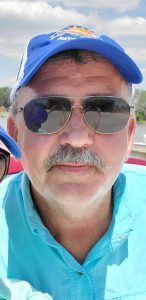 TRUMPET
Frank Horejsi
Phone: 210-323-2185
Email: fhorejsi@satx.rr.com
Mr. Horejsi is a retired band director with over 40 years of teaching experience.   He is a three year All-State musician.  Mr. Horejsi earned a music degree from St. Mary's University and Mid- management degree from Texas A&I University – Kingsville.  Professionally, he has performed with a Rodeo band, circus bands, Ice Capades, and several local dance bands.  He has 48 years of private instruction experience and 30 years as a band director in South SanISD, Northside ISD and Judson ISD school districts.
His students frequently do well in competitions and achieve high honors.   He has had four of his pupils achieve HS All State and has had numerous middle school students make All-Region band in NISD.
Here is his private lesson letter.
---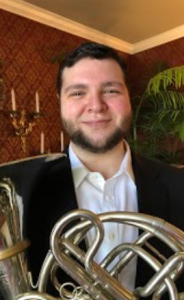 F HORN
Justin Gonzalez
Phone: 210-862-9465
Email: jgonzal9@trinity.edu
Born and raised in San Antonio, Justin Gonzales started playing the horn at age 10. Throughout middle school and high school, he was active in statewide competitions and won a top spot in the highest All-State band in 2005. After receiving a music scholarship to attend the Baylor University School of Music, he pursued a degree in music performance (BM) and graduated in 2009. In 2010, he enrolled in a Masters of Music performance program at the University of North Texas and completed his degree in 2013.
Justin has performed with groups throughout Texas including the San Antonio Symphony, Abilene Philharmonic, and is currently 3rd horn with the Symphony of the Hills. He is currently finishing his doctorate at the University of North Texas. Since 2016, he has been an adjunct faculty member in the Department of Music at Trinity University. The faculty position includes teaching music majors, music minors, and non-major students in horn performance. In addition to his duties at Trinity University, Justin regularly teaches master classes and private lessons throughout the greater San Antonio area.
---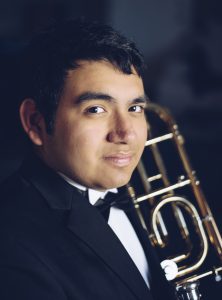 TROMBONE / BARITONE / TUBA
Michael Quintero
Phone: 210-454-7260
Email: michael.quintero98@gmail.com
Michael Quintero is a San Antonio based trombonist who currently attends The University of Texas at San Antonio pursuing a bachelor's in music education studying under the direction of Dr. Steve Parker. During his time at UTSA Michael has performed with various ensembles such as the Spirit of San Antonio marching band, the UTSA Trombone Choir, UTSA Symphonic band, UTSA Wind Ensemble, UTSA Jazz Ensemble, and the UTSA Orchestra. Michael has performed at events such as the TMEA Convention in 2017 with the UTSA Orchestra, and at the St. Mary's Jazz Festival, and Jazz'SA Live with the UTSA Jazz Ensemble.
Michael began playing the trombone in middle school and throughout highschool and college has played and performed on other instruments such as the Euphonium, Bass Trombone, and Tuba. Most recently Michael has worked with the Tivy Highschool marching band as a technician and is currently a music scholar with the Trinity Baptist Church. Professionally, Michael has performed with the Texas Children's Choir and the UTSA Commencement band.
---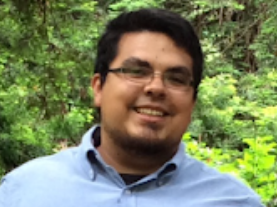 Percussion
Luis Ramos
Phone: 210-325-7091
Email: LuisGRamos@me.com
Luis is an educator and clinician in the San Antonio area. He is currently the Percussion Instructor and Private Lesson teacher for William H. Taft High School among other schools in Northside ISD. His duties include instructing the drumline, teaching private lessons, and leading masterclasses.
Luis is originally from San Antonio, where he was a member of the Revolution Percussion Ensemble, and an active educator for many schools across the area. He attended San Antonio College, as well as the University of North Texas where he was a member of the UNT Green Brigade marching band. He studied under Paul Rennick, Chris McWilliams, Jayce Clemons, Matthew Ryan Kilgore, Alice Gomez, and many others.
Prior to his employment at Taft HS, Luis taught in Houston, Texas. He was most recently the Percussion Director and Coordinator for C. E. King High School and its feeders in Sheldon ISD. His duties included instructing and arranging for the marching band, indoor drumline, and percussion ensembles. He was also on staff at Mayde Creek High School, and North Shore Senior High School, where he helped North Shore lead them to the State Marching Band Contest along with earning 3rd Place TCGC Championships in Scholastic Marching World Class.
Luis is also a staff member with the 2019 WGI Finalist, Violet Crown Independent.  Here is his private lesson letter.
| INSTRUCTOR | INSTRUMENT | PHONE | EMAIL |
| --- | --- | --- | --- |
| Catherine Handgen | Flute | 970-691-7449 | catherine.handgen@gmail.com |
| Vanessa Davies | Oboe/Bassoon | 708.218.4876 | vanessa_davies08@yahoo.com |
| Sara Braisted | Clarinet | 512-773-8180 | sarabraisted@gmail.com |
| Maleah Martin | Clarinet / Saxophone / Flute | 818-292-7807 | sarabraisted@gmail.com |
| Pierre Poree | Saxophone | 210-886-8442 | poree_pp@yahoo.com |
| Gloria Gonzalez | Horn | 210-380-3450 | |
| Frank Horejsi | Trumpet | 210-323-2185 | fhorejsi@satx.rr.com |
| Melba Alejos | Low Brass | 210-846-0555 | |
| Luis Ramos | Percussion | 210-325-7091 | LuisGRamos@me.com |