---
Spring SNAP Fundraiser 
1. Go to hwho.org and click log in / sign up
2. Join Briscoe Fundraiser
3. School code is: 455488167
4. Add info – Shirt size etc
5. Once logged in, you can add emails & press prepare.
---
Music Composition Assignment (due Feb 14th):
1) Handwritten (Paperwork here)       or 
2) Digital (Instructions here) 
Turn assignments into the Band Google Classroom: xb6kp23
---
Student Registration Form

---
Winter Newsletters:
---
Last Minute Concert Reminders:
---
December Newsletters:
---
---
5th grade students info:
---
Band Survey for Int / Adv 
---
Band Notes, Oct 1st, 2019
If you are planning to chaperone at any Band event this year, you must complete a mandatory NISD Background Check.  
A link can be found here.  NISD employees do not need to complete a background check.
---
---
 2019 Briscoe-Taft Side by Side – 
---
Band Movie Party
---
Hello parents!  Here is the NEW calendar for the year!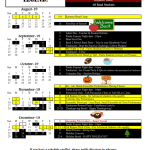 ---
---
 Intermediate & Advanced Bands – Start of the Year Newsletter
---
F.A.Q's for Beginning Band members
Is there a Beginning Band Summer Camp? – There is no before school band event scheduled for beginners.  We will start together the first day of school!
My child has not selected or had a tryout for an instrument? – We will test out instruments for students who have not tried out instruments during class the 1st week of school.
What does my child need the 1st week of school in Band? – Students will only need their 1 1/2 inch band binder and a pencil.  We will cover music theory and finalize all student placements.   We will also be covering band rules & assigning band lockers.
What does my child need the 2nd week of school in Band? –  Students will need their instruments the second week of school.  We will give advance notice to students on the exact date.
Does my child need a lock for their band locker? –  Students do not need to purchase a lock.  A lock will be provided by the band.
Are there any band fees? –  Yes, the band fee is $80.  This covers a polo shirt, spirit shirt, masterclass and other educational expenses.   They are due the 2nd week of school.  Fees can be paid in full or in installments.
I already have a shirt from my sister/brother etc  –  We keep the same style of shirts every year to keep costs down.  If you own a Band spirit shirt ($10) or a Band polo shirt ($20), you can subtract that amount from the band fee.
Is this used instrument a good deal?   –  If you are purchasing a used instrument from a private seller, it is always a good idea to get it professionally looked at before purchase.  We recommend High School Music in Alamo Ranch.
Where are the area music stores?  –  Area stores can be found here.
Is there a calendar of events?   –  Yes there is but dates have not been finalized.  You will be able to find them on the Calendar (to the right) on the first day of school.
Can I chaperone for events?   –  We'd love for you to!  In fact, some events can not be done without parental volunteers.  The link can be found here.  Note: If you work for Northside ISD, you already have your background check completed.  
How do you communicate with parents?   –  We send out handouts with students, email parents a PDF copy and put a copy on this website.  We currently are configuring our database (called Charms).
---
Summer Camp 2019!!!
"Briscoe Summer Band Camp" will be on Monday, August 5th – Thursday, August 8th  from 9am – noon.  This is an optional camp and is free for all returning band students.
Special Concert performance & Pizza Party on Thursday, August 8th at 11:30am!